Table des matières
Jean Zay: Introduction
The supercomputer
Jean Zay is the name of the new supercomputer converged platform acquired by the"French Ministry of Higher Education, Research and Innovation" through the intermediary of the French civil company, GENCI (Grand Equipement National De Calcul Intensif). This acquisition was contracted with Hewlett Packard Enterprise (HPE) and signed on 8 January 2019.
http://www.enseignementsup-recherche.gouv.fr/cid137733/signature-du-marche-d-acquisition-de-l-un-des-supercalculateurs-les-plus-puissants-d-europe.html
The Jean Zay computer was installed at IDRIS, national computing centre for the CNRS (Centre national de la recherche scientifique), during the first half of 2019 with a peak performance of 15.9 Pflop/s (15.9 million billion floating point operations per second). A first extension to the supercomputer was installed during the summer of 2020 bringing the peak performance to 28 Pflops/s. Then a second extension in June 2022 brought the peak performance to 36.85 Pflop/s. The configuration of Jean Zay makes it possible to extend the classic usage modes of high performance computing (HPC) to new usages in artificial intelligence (AI).
All of the hardware and software configurations of the Jean Zay supercomputer are detailed here.
Moreover, a new procedure was established with GENCI in order to facilitate access to this computer for the entire artificial intelligence research community whose needs and work methods differ greatly from those of the HPC community: Dynamic Access.
Who was Jean Zay?
Jean Zay (1904-1944) was the French Minister of National Education and Fine Arts from June 1936 to September 1939. He was assassinated on 20 June 1944 by the Vichy "Milice". During his mandates as Minister of National Education, Jean Zay implemented important advancements in the French educational system. As Minister of Fine Arts, he notably initiated the creation of the Musée d'Art Moderne, the Musée de l'Homme, the Musée des Arts et Traditions Populaires and the Cannes Film Festival. He also had under his responsibility the Under-Secretary of State for Scientific Research, occupied by Irène Joliot-Curie (June to September 1936), and then by Jean Perrin with whom he prepared all the steps which led to the creation of France's National Centre for Scientific Research (CNRS) on 19 October 1939.
Jean Zay was inducted into the Paris Panthéon on 27 May 2015.
It was decided to pay tribute to Jean Zay by giving his name to the new supercomputer operated by the CNRS. Of added significance, this acquisition coincides with the 80th anniversary of the creation of the CNRS.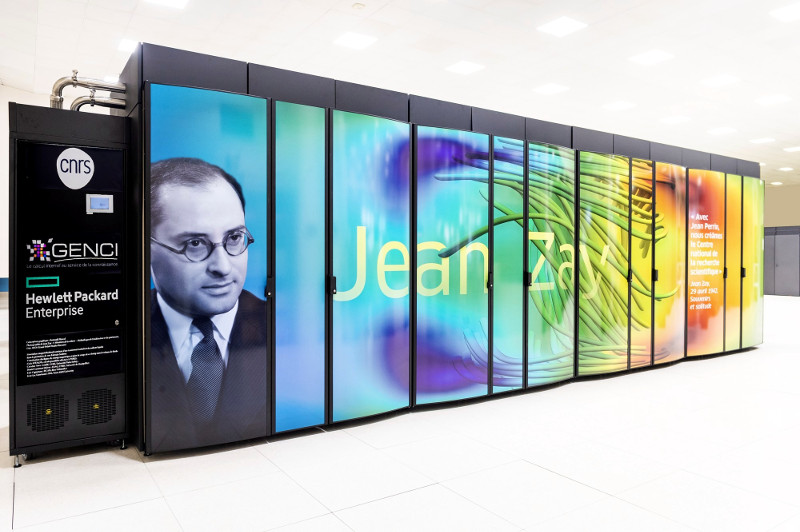 copyright Photothèque CNRS/Cyril Frésillon